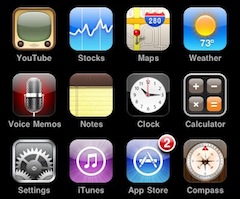 Today we finally became a 2 iPhone family. As I was gathering up my suggestions of iPhone apps to share with my wife, I decided I'd go ahead and share them with everyone. Most of these apps are free. I've attempted to group them into types of apps as best as I can.
Location Aware Apps:
Miscellaneous:
Social Networking
Financial
Games
Remote Connectivity
My office mate, Matt, currenly has 254 apps installed on his iPhone.  That's more than the iPhone is actually capable of displaying on it's home pages.  Anyway, I also asked him for his recommendations of best apps.
Matt's Picks:
What are your favorite iPhone apps that you use at least once a week?