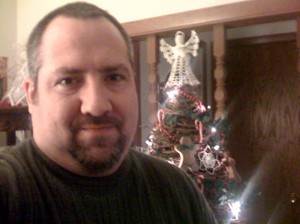 I've recently been getting back in touch with a lot of old friends that I haven't talked to in 10-20+ years. I thought I'd post my first ever Christmas letter here to get people up to speed on my life these days.
What Do I Do These Days?
August of 2008 marked my fifth year of working for the National Center for Supercomputing Applications (NCSA) at the University of Illinois. I maintain computer systems that host lots of web sites, email services, distributed storage, and authentication services for NCSA. You may have heard in the news recently that we are now in the process of building the world's largest supercomputer, which is supposed to go online in 2010.
While I enjoy my job, my true passion is my church, Grace Community Church. I volunteer several hours each week there leading our TechArts teams (sound, video, production, and IT) and also help lead and serve on our board (which has been a huge task this year). For the past year and a half, Grace has been networked with LifeChurch.tv, which is one of the most innovative and powerful churches in the US. This partnership has really excited me again about the life changing power of the local church.
Highlights From 2008…
In January our pastor resigned. He'd been the pastor of our church since long before I started attending 16 years ago. I helped lead the task of hiring a new pastor and leading in new ways during the transition of hiring our new pastor on July 1.
My dad went to Moscow and Siberia for a month-long mission trip in June & July. I was pretty proud of him, since he hadn't gone on any mission trips for a few years due to his health. He spent a lot of his time training Christian leaders there from some churches he'd help plant about 18 years ago.
My Mom had both of her hips replaced this summer and fall. She's been off work for almost 6 months as she's been rehabilitating. Things have gone great for her, but it's made for a slow rehabilitation for a lady that's always on the go. Since both my parents have had both hips replaced now, I think I need to schedule an appointment with an orthopedic surgeon in about 15-20 years. 🙂
In September I became kind of a surrogate father. A friend of mine from church has 2 teenage brothers that she adopted a few years ago. The oldest one has been having some issues with her this year and they'd gotten to a point where she wasn't comfortable with him continuing to live with her. So, R.C. has been living with me for the past few months. It's been a really good experience for both of us.
Lessons & Growth in 2008…
This year I've realized a new confidence in how God has created me. He has created me, and that's good. Over the years I've gathered a lot of wisdom, and as a result I should use it and share it. In the past I've normally kept quiet and not offered my opinions, but I've come to realize my opinions also come with years of experience and are valuable. I no longer consider myself a kid, but rather a man who God can use. I'm no longer afraid of greatness.
This year I've also gained a new level of trust in God. At church things looked almost impossible this spring. But, I've been reminded that I don't need to have all the answers. Despite me not understanding all the details, God's got my back and I can relax and not worry. If I'm following God's leading, He'll take care of the details and lead us to a new place.
So, anyway, that's a brief look at God at work in my life this year. It's funny how most of the excitement from this year was totally unexpected, but has been one of the best yet of my life. He's still the Lord Emmanuel, God with us. I'm excited to see what new excitement is awaiting in 2009.
Merry Christmas!
-Bill