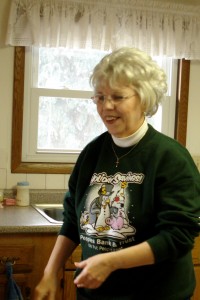 I'd do almost anything for my mom if I know she really needs my help.  If an emergency comes up, I'll take off from work and drive 100 miles to go be with her at the drop of a hat.  She's family and I love her.  And I'll do just about anything to help my family when they're in serious need.
As an unmarried, only child, my physical family is pretty small.  But, as a child of God, my family is ginormous. God asks us to live life together as a family and share and help one another as need arises.  Unfortunately, either I often don't see the needs of my family, or my family doesn't express their needs to me.  But, I know various people in my family are hurting and needing help.  How can I better realize their needs and help them in both practical ways and lifting them in prayer?  I want to grow in this area.
Last week my mom had several physical needs and I took off several days from work to help her and be at her side.  About the same time, I learned of 3 families at church who had deaths of close friends and family.  And I also learned about 2 marriages that were going through some pretty rough times.  Normally I'd probably say a quick prayer for these situations, but this past week God has somewhat broken me over these hurts and needs.  I've actually spent many different times praying and crying over these hurts and needs of my 'family' members.  It's been an eye and heart opening experience to be broken by these hurts.  I want to continue to grow in noticing and helping my family.
Lord, continue to work in my life so that I'm broken when my family is broken.  Help me to notice when my family is hurting and broken.  Help me to grow in my willingness and passion in practically praying and assisting when my family needs help.  And, continue to lift up and strengthen these 6 groups of people in my family.  I especially ask you to bless these 2 troubled marriages, as well as 2 others that came to mind tonight.  Touch them in a mighty and miraculous way as only you can!