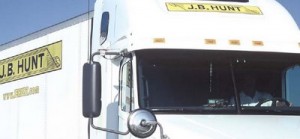 Last week I was reminded that in January of 1994 I'd signed up to attend the JB Hunt truck driving school.  I was totally into truck driving and the transportation industry back then, and I was searching for where God was wanting to lead me professionally and personally.  If I remember correctly, attending that truck driving school required me to drive for JB Hunt for the next 3 years after graduating.  For some reason I changed my mind about 10 days before the school was to begin.
A month ago I was also remembering how I'd signed up for the Navy ROTC program when I was a college freshman.  I'd initially applied for NROTC for the tuition scholarship that came with the program.  But, I ended up getting another full scholarship that didn't require me to sign over my life after college.  So, after the first 2 weeks of college and NROTC, I began to question why I was still in NROTC and ended up dropping out of it before I had any commitment to our US military.
While 'signing over' a few years of your life to a trucking company or to the military might not sound like your cup of tea, I think either experience could have been good for me.  I'm sure my life would have been both better and worse from either experience and I'd likely be in a whole different situation, better or worse, than I am now.
I really like where I am now.  It's not perfect, but it's good and God has definitely worked some big stuff in my life over the past few years.  I don't regret any of the big life-choices I've made, but I sometimes just wonder how things might have been different.
God, thanks for leading me along my life's journey.  Often times life's choices are hard and unclear, but you are willing to offer us guidance and wisdom about such decisions.  Thanks so much for your guidance in my life.  I can't wait to see what lies ahead along our path!